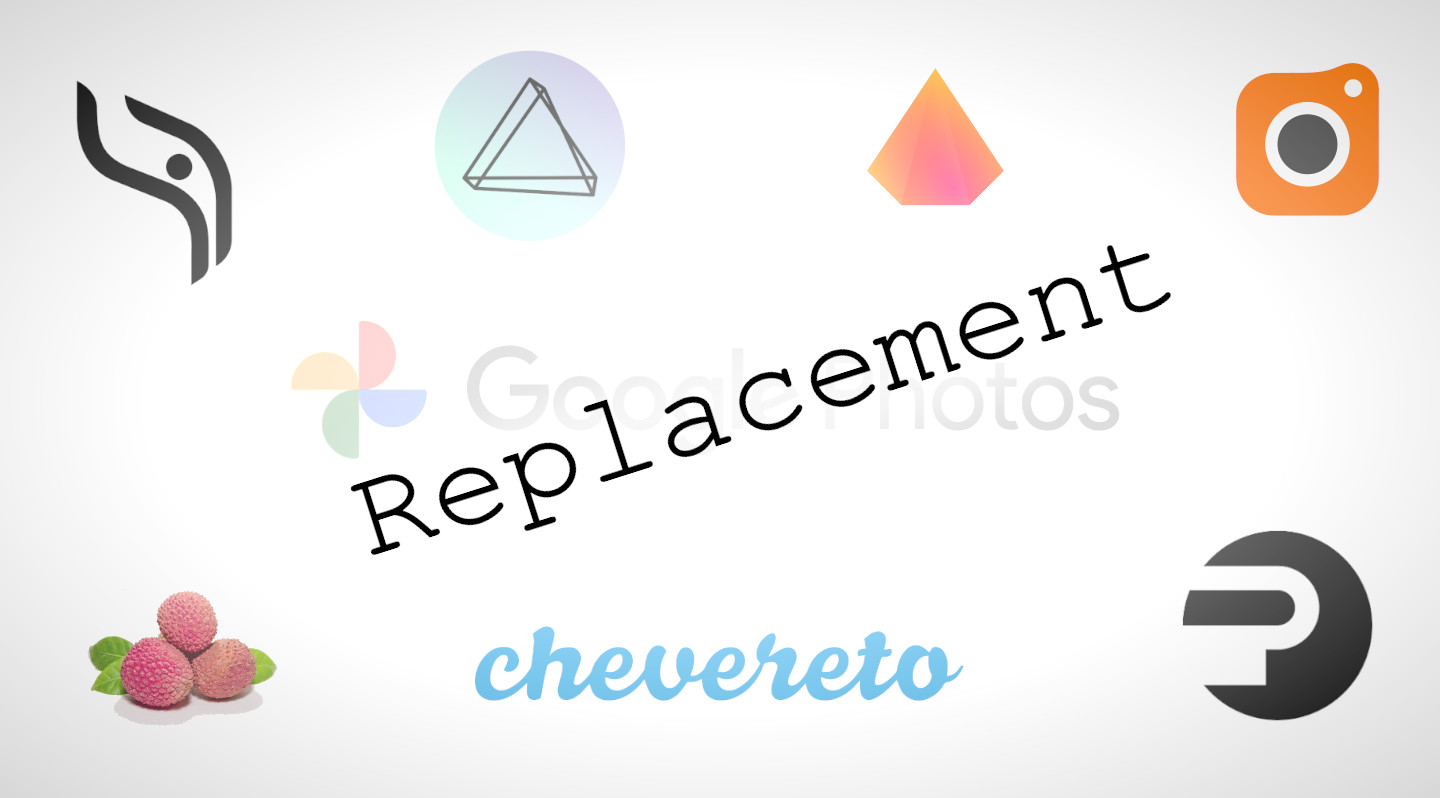 Google Photos Replacement Roundup
Mon, Jun 28, 2021
22-minute read
Table of Contents
The announcement of Google limiting their Photos storage, along with mounting concerns about privacy and invasive advertising, are leading many like myself away from big tech. While it's "easy" to switch from Google to Amazon, or others, their ethics and honesty are quickly changing the way people use the "cloud". I made the switch to self-hosting my applications for a variety of reasons and wanted to share my experience with a Google Photos replacement.
---

Thank you for visiting my site and checking out this post! I hope you find it helpful. You may have noticed I don't have any advertisements running (I hate how invasive online advertising has become). This also means no passive income to keep the site running. Please consider donating a small amount to say thank you and help me cover the costs.
---
Replacing Google
If you are looking for a self-hosted direct 1:1 replacement, it doesn't exist. Remember that Google (ABC Inc.) is a massive corporation who harvests some of the best software developers in the world to focus on making their ecosystem work well together. Most self-hosted options fall under the Free and Open Source (FOSS) model allowing anyone and everyone to use or modify the software. This isn't the space to discuss the pro's and con's of FOSS, but most of what I will recommend will fall under this model.
Full Google Suite Replacement
If you are looking to replace the entire Google suite, I have another upcoming article discussing the differences and pros/cons between Nextcloud, OwnCloud, Seafile, Pydio. You may have noticed I have a number of articles about Nextcloud (one of my personal favorites), but the Photos app has taken a noticeably negative turn since about v18. Therefore, I will not mention it further in this article.
Selecting a Photo Gallery Application
Below is my curated, non-exhaustive list of some great self-hosted photo services. Many are featured on the awesome self-hosted list. I will give my thoughts on a few of them before highlighting my personal favorite, PhotoPrism. I have been using it now for about 6 months and am pretty excited about how useful it is and where it's headed.
Some of the most commonly referenced self-hosted photo applications are below with my take on them. Let's see if we can find a suitable Google Photos replacement app.
Criteria
I am a scuba diving instructor and love bringing my camera along with me on dives. On top of that, my travel photos and daily phone shots have created a large library that's not easy to manage. I am looking for a well-rounded software that is also a joy to use. It needs to first and foremost help me organize my photo library and make it easier to find and share my photos. Since my partner also has loads of photos and is very nontechnical, it needs to strike a balance that will suit us both. I currently have a fairly powerful 4 core / 8 GB server through Hetzner, so I don't mind a more resource intensive application. Below are the rough criteria I used when selecting a Google Photos replacement app.
Primary
Fast
Authentication
Ease-of-use
Easy to setup and manage
Multiple users
Albums
Timeline / Calendar view
Sharing (restricted)
Syncing
EXIF data
Tagging / Search capabilities
Basic image editing (crop, rotate)
Secondary
Auto tagging
De-duplication
Stacking (group similar photos)
Mapping (Geo-tagging)
Intermediate photo editing (color balance, white balance, saturation, contrast, etc.)
Photo Applications (In no particular order)
Firstly, I would like to thank the developers for dedicating their spare time to work on such great projects. I understand how difficult it is to balance life, work and family and still find time to write something we can all enjoy. On behalf of all FOSS software developers, I kindly ask you to thank the developers of open source software for their efforts and support them in any way possible.
All 7 of the following applications were installed at tested in a VM on my laptop. It is a 2014 Macbook Air running Fedora 34. The VM ran Ubuntu 20.04 with 2 virtual cores and 1GB of RAM. I used the latest Docker and docker-compose.
Yes those specs are quite low, but surprisingly, every application ran well and the specs represent entry-level, self-hosting hardware.
Lychee - (v 4.3.0)
https://github.com/LycheeOrg/Lychee
Lychee is a simple, beautifully minimalist, no fuss, photo viewing gallery site. The interface is minimal but functional with a decent amount of customization available behind-the-scenes.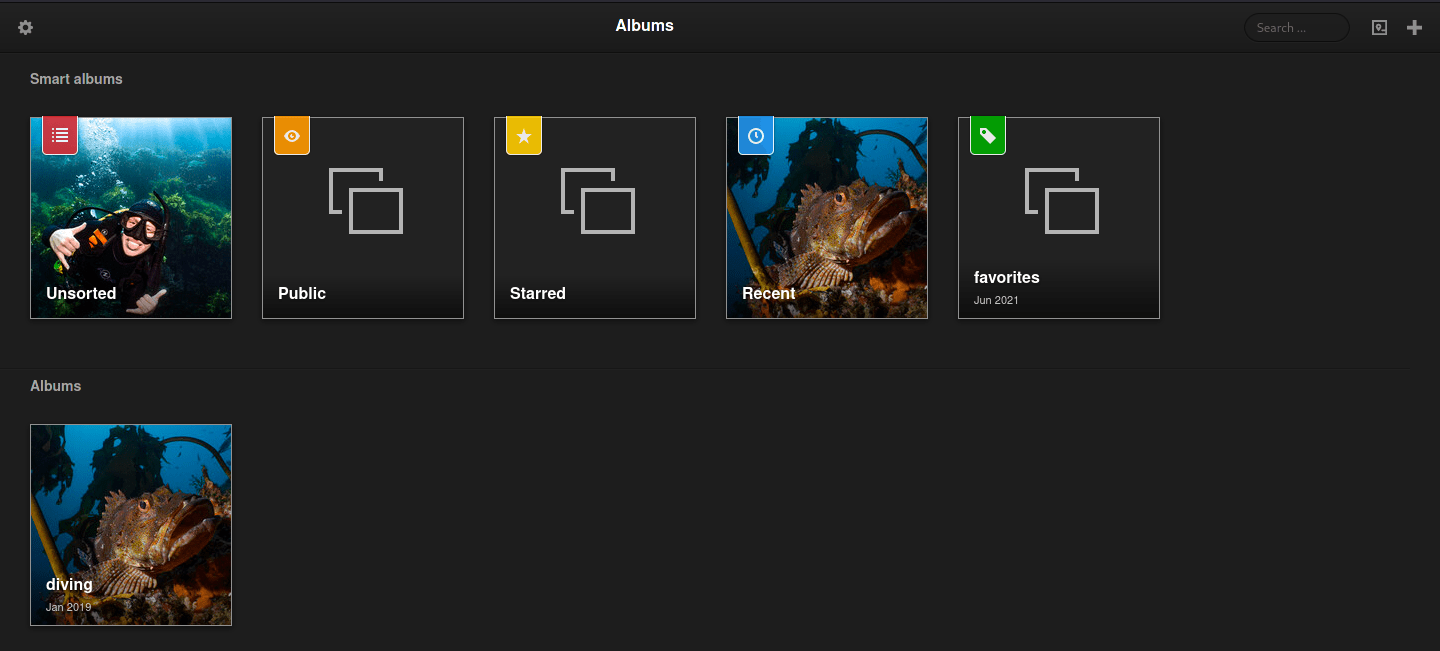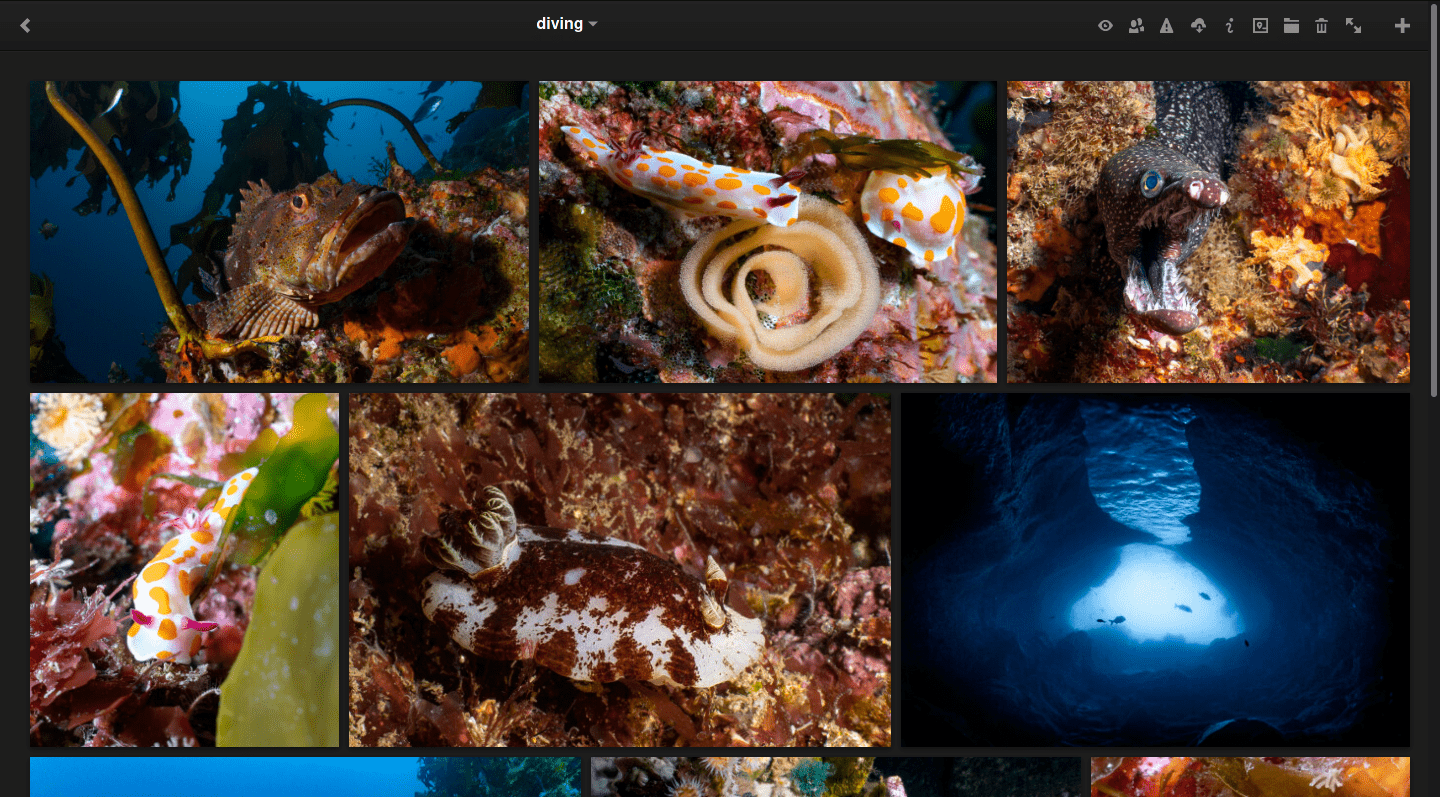 Pro's
Lightweight – Runs quickly and smoothly
Large photo view, good use of screen real-estate
Sharing with other users, public via link, password optional
"Smart" albums
Customizable via CSS
Rotate photos
Con's
Syncing works, but requires some setup
Manual tagging
No calendar view
No mobile apps (yet)
Organization options lacking for large libraries
Small community, few contributors
Experience
The first time I came across Lychee and poked around I felt like many of the features I was looking for were missing. In fact, I didn't even go further than skimming the website. I decided it was unfair to pass over a software that is frequently recommended in many self-hosted communities. So I started a docker container and took time to consider Lychee as a contender.
I really like how simple the setup is, and the default configuration is quite good (although the zoom animations were a bit hard on my eyes – but easily disabled). It honestly ticks most of the boxes in my requirements. The UI is very focused on the photos themselves, and options and settings are tucked into the corners to maximize screen space. This is both a plus and a minus for me. While I enjoy the large, clutter-free photos, it's not as intuitive when learning the software.
I would like to try Lychee with my large library but there are a few thorns that keep me from wanting to switch from my current app of choice. The current iteration of Lychee works quite well, but as it is a re-write of code from a previous project, there are some bubblegum and shoestring fixes that allow mostly everything to mostly work. The main developer has said they are in the midst of re-writing the front-end of Lychee and changing how the back-end functions. As of writing this, there is also an Android app in the works. I believe the next major iteration will be fantastic!
Who is Lychee for?
Anyone looking for a minimalist, clean way to easily share/store photos while having multiple users.
Chevereto - (Free v1.3.0) (Core v3.20.9)
Chevereto is a self-hosted image hosting website – think Imgur but private.
Update July 13, 2021:
The creator of Chevereto reached out to me and offered the $39 Core license to me free-of-charge. While he didn't specifically ask me to update this article, I decided to add a few thoughts on using the updated version.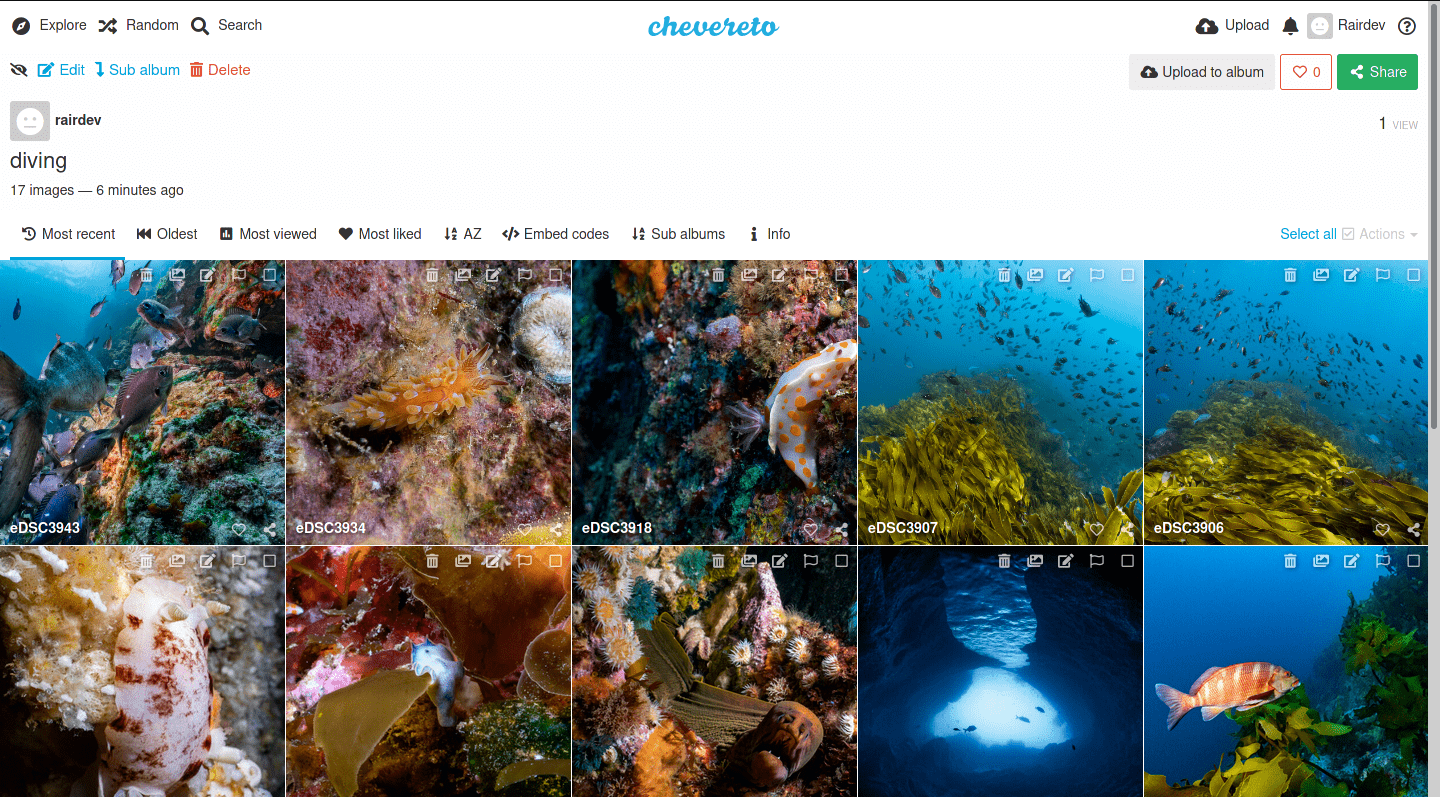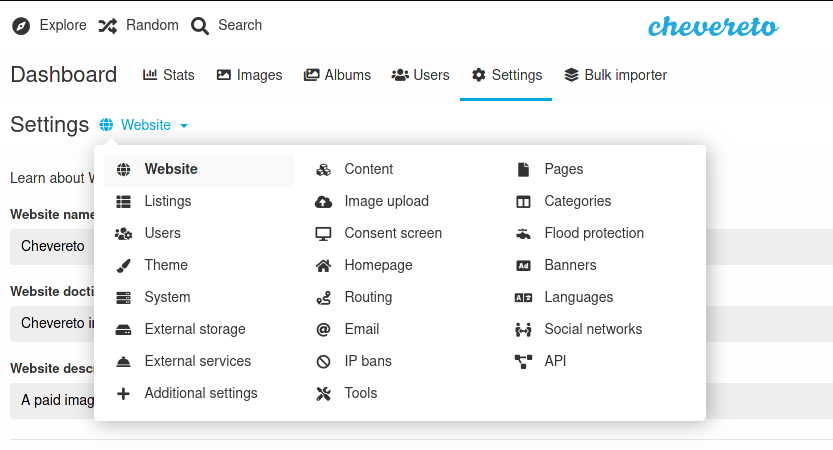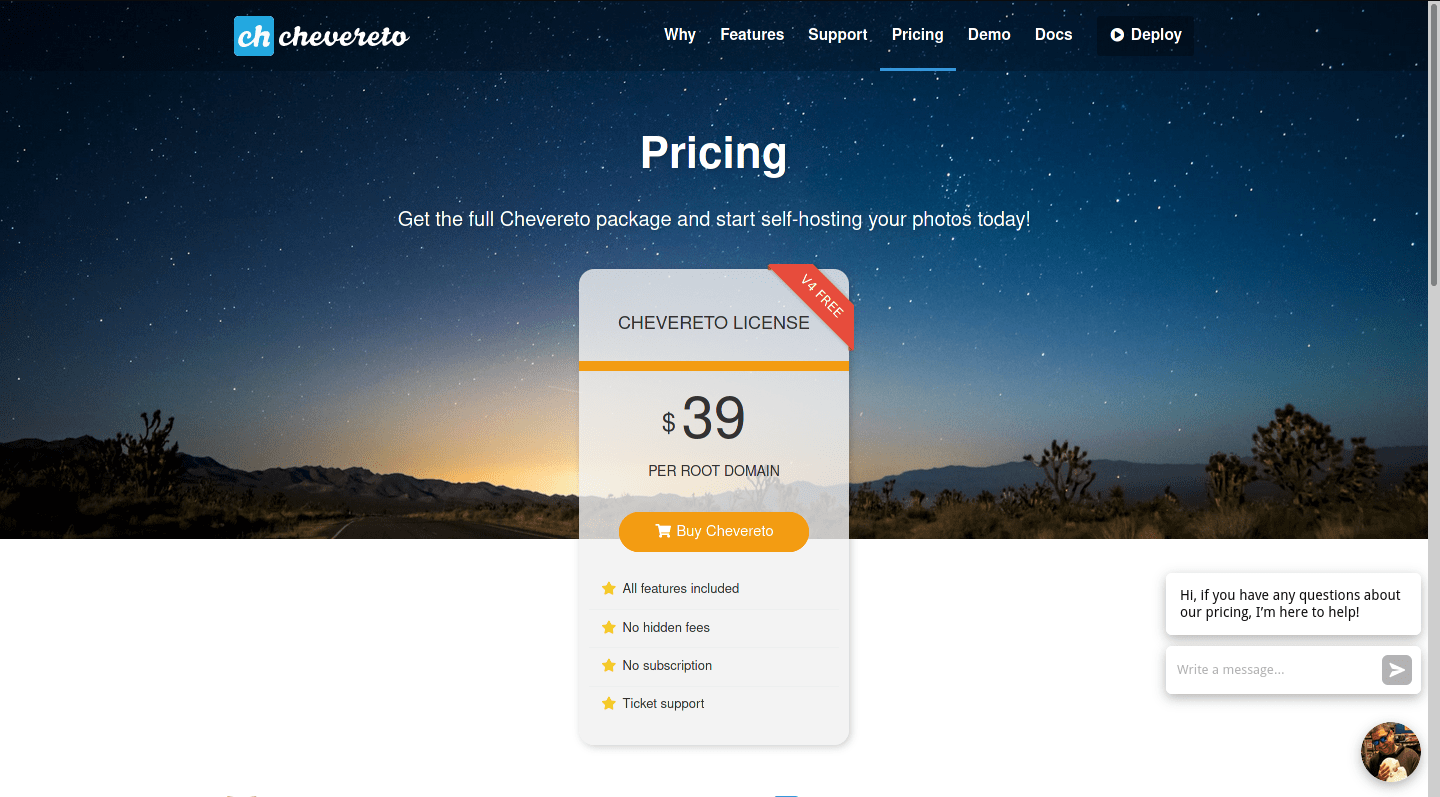 Pro's
Well-developed and stable (especially the paid Core version)
Fast, medium weight on resources
De-duplication
Large community
Highly configurable + plugins
Paid version supports a small developer and adds more functionality
Imports metadata from a Google Takeout photo dump
Con's
Free version is behind on many features - No longer developed after 2021
Importing copies files to a new directory (doubling storage use if using something like Nextcloud)
No basic editing
No tagging
Moderate learning curve
Importing photos is not an easy process
EXIF data preserved but useless
Experience (Free version)
After spending a few hours turning all the knobs and clicking around I grew to enjoy Chevereto Free. However, I don't think it suits what I am looking for. It is a very powerful piece of software that is aimed towards image hosting. It can be run in either "Private" mode or "Community" mode, though I feel it leans toward the latter. The software developer appears to be well organized and works directly with the community to address issues and new features. The paid model helps support his work in ways that many FOSS software struggle.
Initially it was a bit more challenging than expected to setup via Docker since the Free version isn't really built around containerization and is instead bootstrapped in. The documentation is also limited and doesn't currently include example compose files. This made my setup take longer than expected because of a misconfiguration on my part that lead to hitting GitHub's rate-limit.
Once up and running, the final account setup and installation was a breeze. I poked around a bit and customized the site to my liking. Bulk importing files was also a bit challenging and I ended up deleting my files a few times until I dug through the settings to figure out why. Once everything was up and running it was quite pleasing to use. There are, however, a number of features missing that I'm looking for as a Google Photos replacement. The software is more focused towards a specific niche and what it does it does VERY well.
Experience ($39 USD Core Version) – Update July 13, 2021
The Free version of Chevereto is based upon the 3.16 release, while this current Core version has reached LTS status. I tested it at version 3.20.9. There also appears to be a LOT going into the upcoming v4 release of the application which is due out September 2021.
Since my last review of Chevereto, the developer has put some work into making containerization easier to manage. That being said, Chevereto is still aimed at more intermediate to advanced users. For example: the official documentation recommends forking their GitHub-Actions-based container-builder to build images for your private repository. I imagine the majority of you reading this have no idea what the last sentence even means.
To stick with the theme that we are trying to replace Google Photos at a relatively basic level, I decided to first stick to the bootstrapped method as that's what the majority of new users are likely capable of handling.
Getting setup was a bit shaky again, but the developer's GitHub now includes an example docker-compose file to get you started. Unfortunately, it's still bootstrapped in which means it re-installs itself every time you stop and restart the container.
Once running, I enjoyed the clutter-free layout and less buggy bulk import interface. I still wish it would integrate with existing directory structures and not require a full import (and duplication) of existing files. From an admin perspective, creating additional users, setting default behaviors, and site management are all easily accomplished in the comprehensive Dashboard page. From a user perspective, sharing via password protected links, sharing to social media, drag-and-drop uploading, and album management are clear and intuitive.
While the paid version significantly improves on the Free version, my thoughts from before still apply. Chevereto is geared towards a niche of people looking to self-host an image hosting website. Features like NSFW detection, social sign-ups, advertising banner space, SEO, GDPR compliance, "most-liked" and "most-viewed" filters mean that it's great for creating a community around photos and hosted images. This might suit some of you, but for me it lacks some basic organizational tools while providing a lot of unnecessary features for a 2-person household. The upcoming release in September 2021 looks interesting and will definitely be worth revisiting.
Who is Chevereto for?
Intermediate users looking for a self-hosted image hosting site. Caters towards building a community (social interactions, sharing, etc.) around image hosting.
Piwigo - (v 11.5.0)
Piwigo, since 2002, is a long standing name in this space and has lots of great features, high customization, and a large community.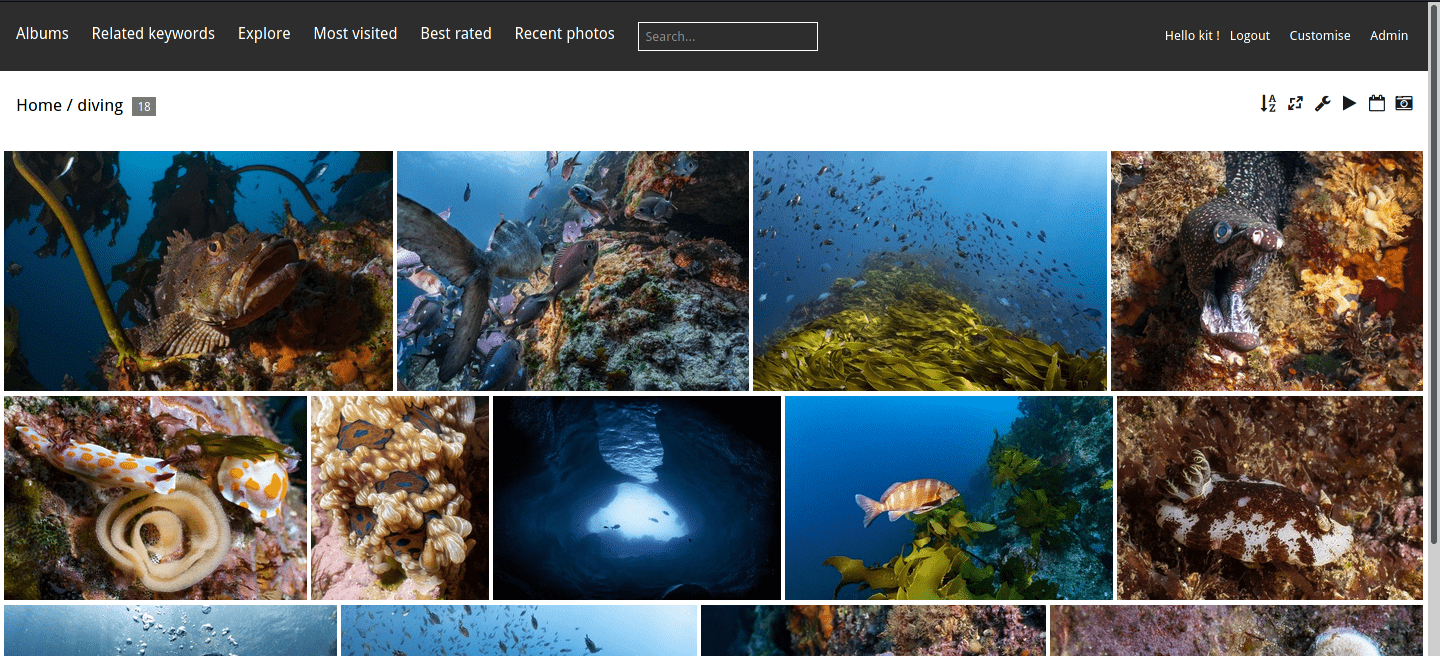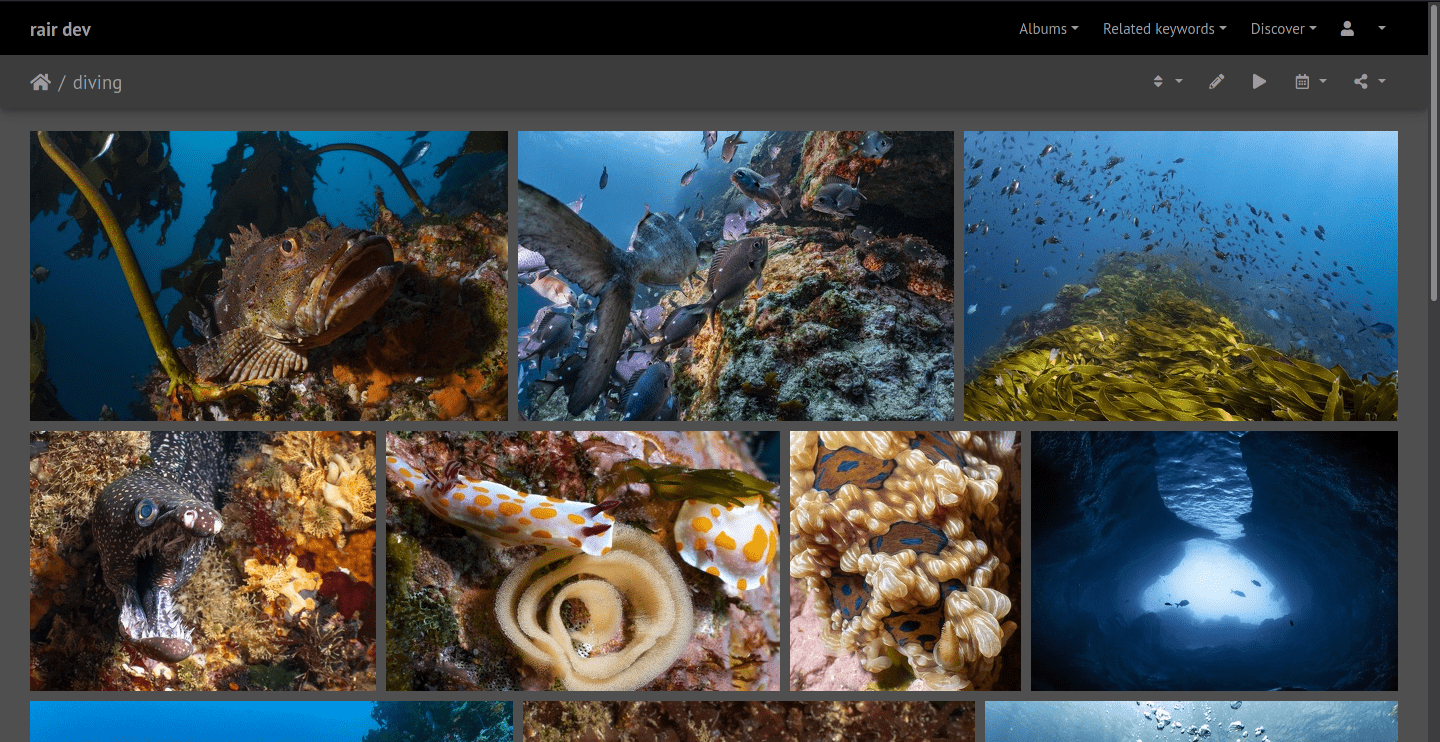 Pro's
Highly customizable interface via themes, tools, extensions, CSS
Light to middle weight on resources
Community involvement very high
Custom sort order in albums
Select different photo size in album view
Con's
More challenging to setup – no official docker image
Default settings give a very outdated feel
Importing large libraries challenging
Functionality non-intuitive
Requires more technical knowledge
Experience
The first time I setup Piwigo, I used the Linuxserver.io docker image. Getting the container started was quite easy, but I was presented with a very outdated and non-intuitive interface (the first two images above). Upon further reading I found that there are MANY themes, plugins, extensions, tools, etc. that allow you to customize Piwigo to your heart's desire. Before digging too deeply into those, I tried to import some of my massive library. First, the process for importing an existing library is not clear and took significant time to figure out. Once imported, I was greeted with many errors and failures while creating checksums for the photos. Eventually, I gave up. Even with the photos I had managed to import, trying to organize them in a meaningful way proved challenging and I could not find intuitive ways to bend the software to my will.
I sat on it for a couple of months and decided to give it another chance when writing this article. This time I searched for an official docker image (which still does not exist). Fortunately, a member of the lovely Piwigo community posted a Dockerfile in the forums as a starting point. I mostly copy-pasted it and made a few modifications to suit my testing. Again, not the easiest setup if you aren't familiar with Docker and building your own Dockerfile. But eventually I got it up and running. Wow – what a difference! By pre-installing a theme and a few extensions, the site already looked and felt 100x more modern (the bottom two images above). This was what I was hoping for.
I understand that my desire to stick to Docker images is the primary cause of the frustration and confusion with Piwigo, but I believe it also points to the intended audience for Piwigo. To me, too many of the settings are distributed and de-centralized through disparate menus giving Piwigo a steep learning curve. However, at its base is a very powerful software with infinite possibilities.
Who is Piwigo for?
Web development enthusiasts and professionals who know the "default" is never what they want and enjoy digging through options, plugins, and writing their own CSS.
LibrePhotos - (v dev?)
https://github.com/LibrePhotos/librephotos
LibrePhotos starts to step into the "more powerful" category and is often cited as a direct Google Photos replacement. It has some great core features and a variety of data visualization.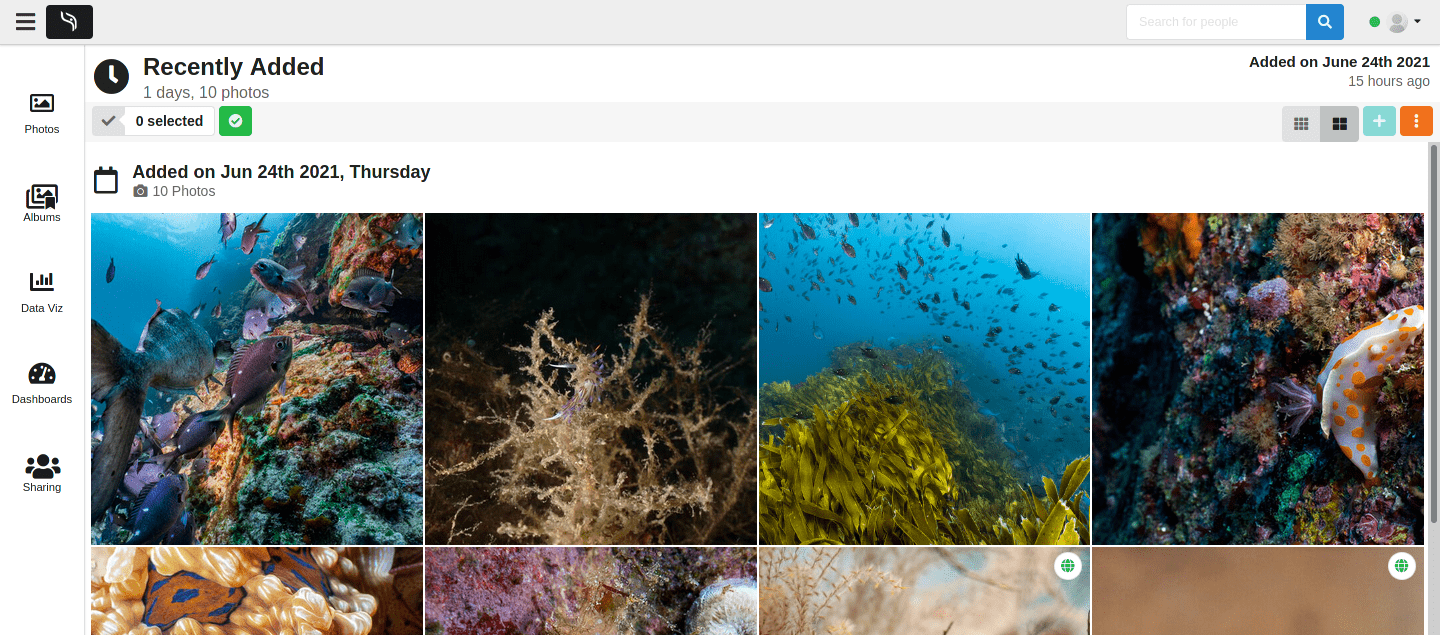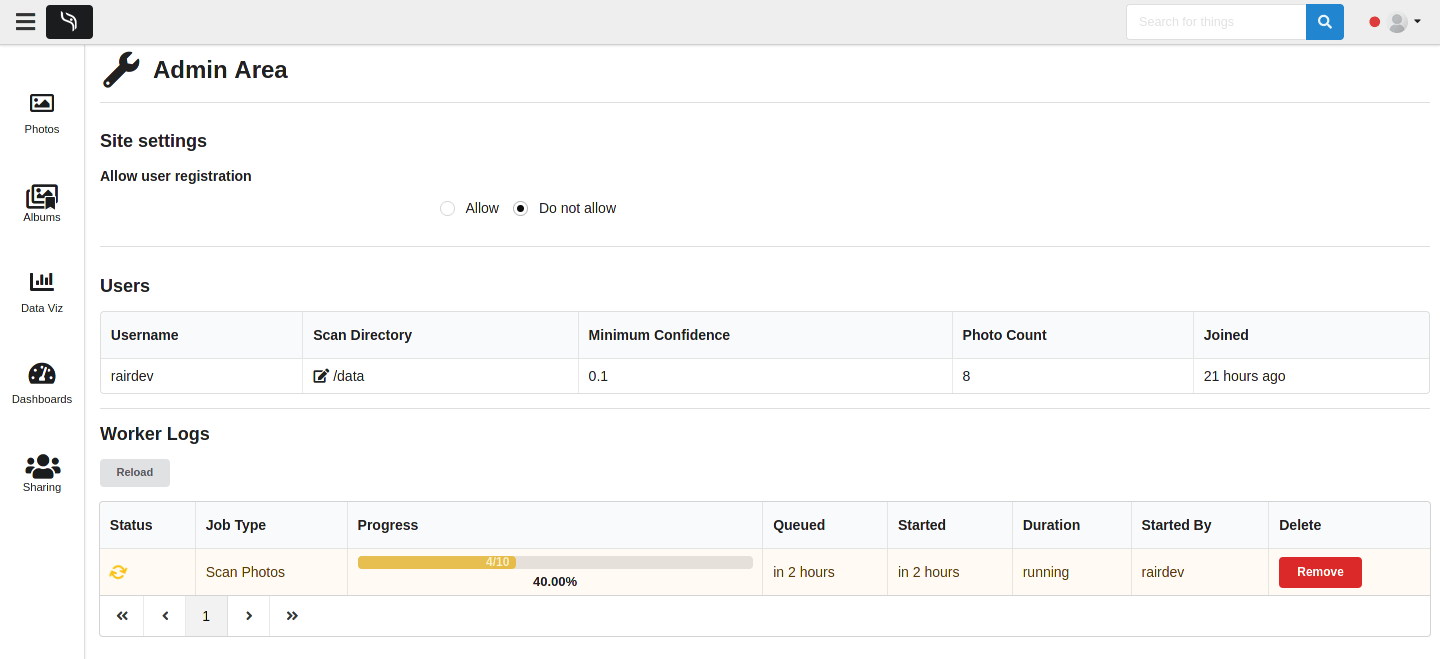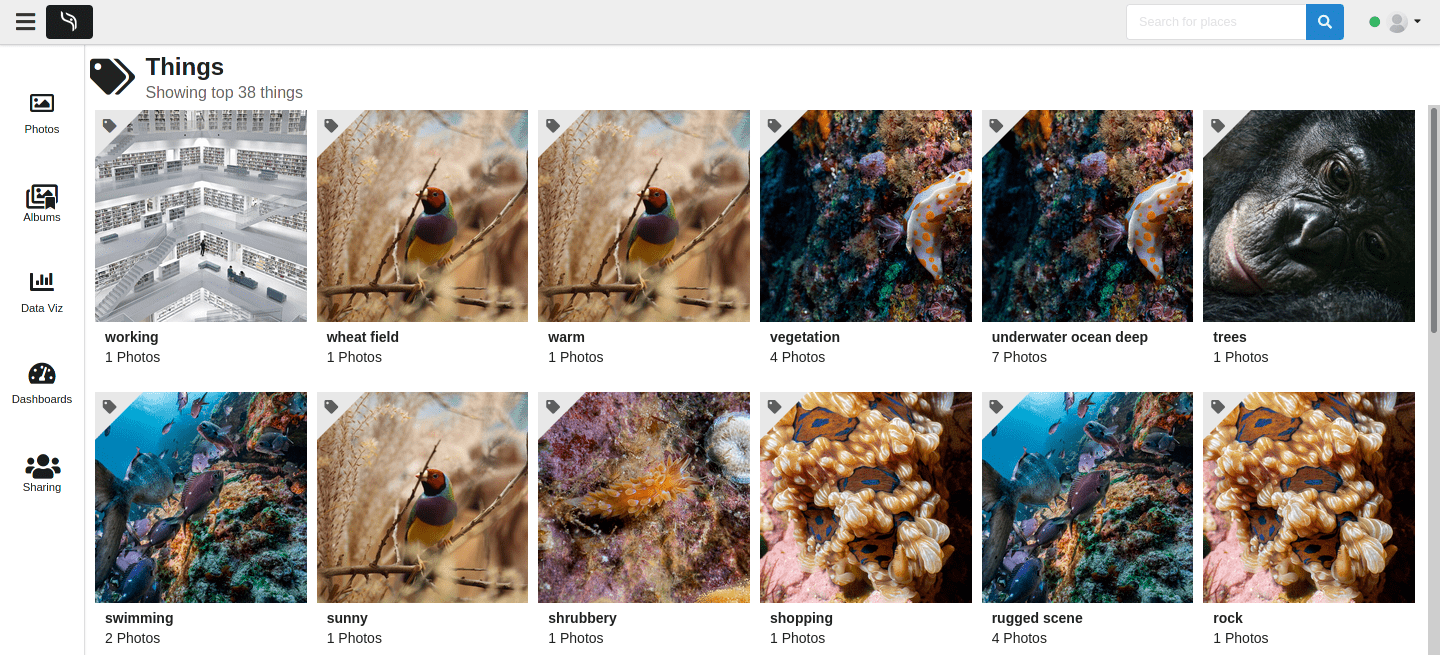 Pro's
Integration with Nextcloud
Powerful, automatic tagging, facial recognition
Fast user interface
Data visualization
Automatic "event" albums
Supports RAW photos
Con's
Large initial download
Very resource intensive
Few maintainers, relatively new
Copies Nextcloud photos to LibrePhotos (doubling space required)
Cannot share albums
Data visualization
No upload option via webUI
Few customization options
Experience
LibrePhotos is a fork of an old software called OwnPhotos. My initial reaction during installation was, "Wow." The documentation to get you started is quite thorough, and even someone who doesn't really understand docker can get it running in a few minutes with the included .env and docker-compose.yml files. This is especially helpful as it starts 5 containers to get the app running. After the long download (~5.5 GB), the containers started and the site was up and running easily. Poking around the UI and settings was overall a positive experience, but not entirely intuitive. I decided to try to add some photos and found you can't upload through the web interface. You must first upload them to a mounted directory, and then start a scanning process. I added 4 photos and waited roughly 15 minutes for the scan to complete. Granted this is running on a low resource VM, but still took longer than expected. Trying to import files from my Nextcloud running on the same VM failed and threw some cryptic errors in an error log I had to track down.
The UI is pretty straight forward, and after importing the few photos I begin to see just how powerful this software is. It's quite impressive what we are capable of creating with machine learning software. That being said, the time it took to do the scans was a bit frustrating. I would appreciate it more if it would simply import the photos and then do the image processing behind-the-scenes via cron jobs or otherwise. Furthermore, machine learning is still in its infancy as the tags on my example photos were quite funny and inaccurate (bottom image above). I was also frustrated that I can't just see all of my photos – I have to either choose those with a timestamp, or those without a timestamp. You are unable to share albums and must share individual photos instead.
Overall, it seems the primary focus of LibrePhotos is on data visualization and the capabilities of machine learning while putting user experience second. It is a very impressive example of what can be done, but in my humble opinion, not well suited to most self-hosting individuals with lower-powered hardware. If you have the patience and hardware for it, LibrePhotos can only be considered a Google Photos replacement in a few ways.
Who is LibrePhotos for?
Data science photographers who are more interested in the data and statistics about their photos than with the photos themselves. Must have powerful hardware.
Photonix - (v 0.11.0)
Photonix is a photo management application designed to help photographers organize their library and easily find photos.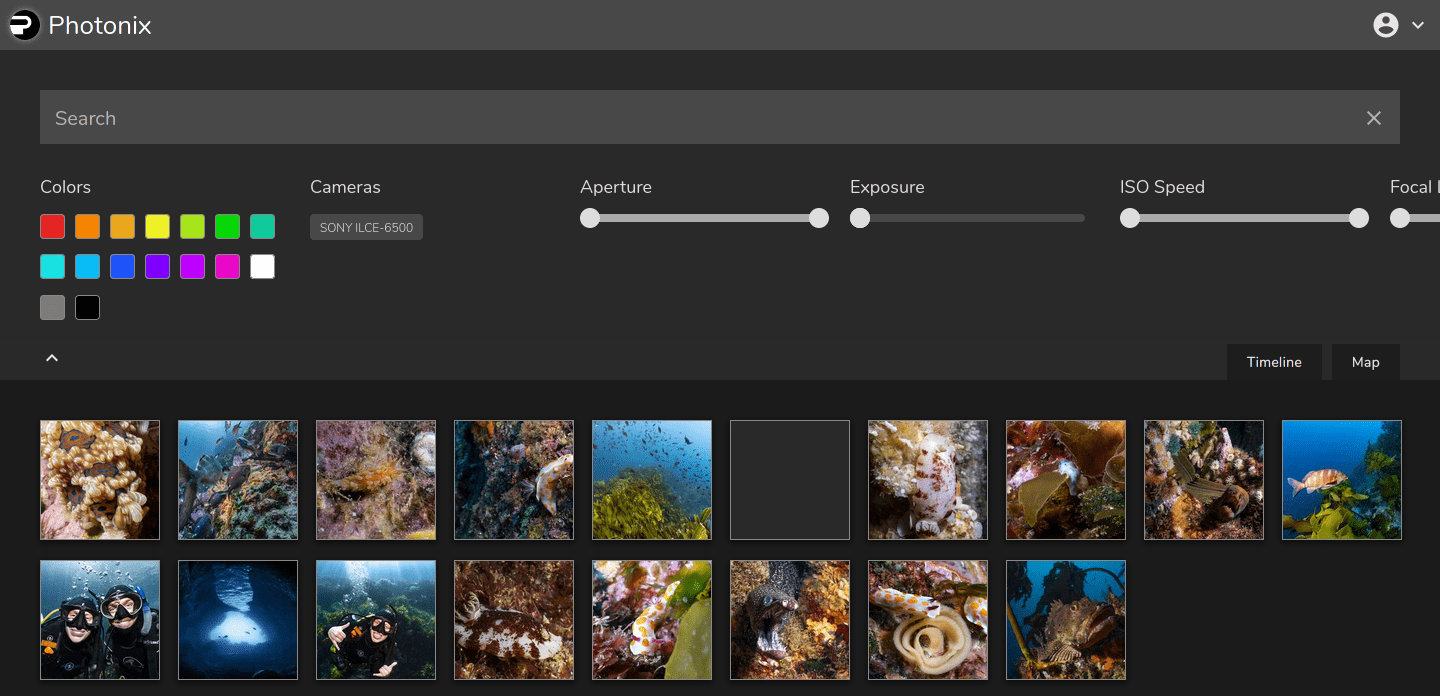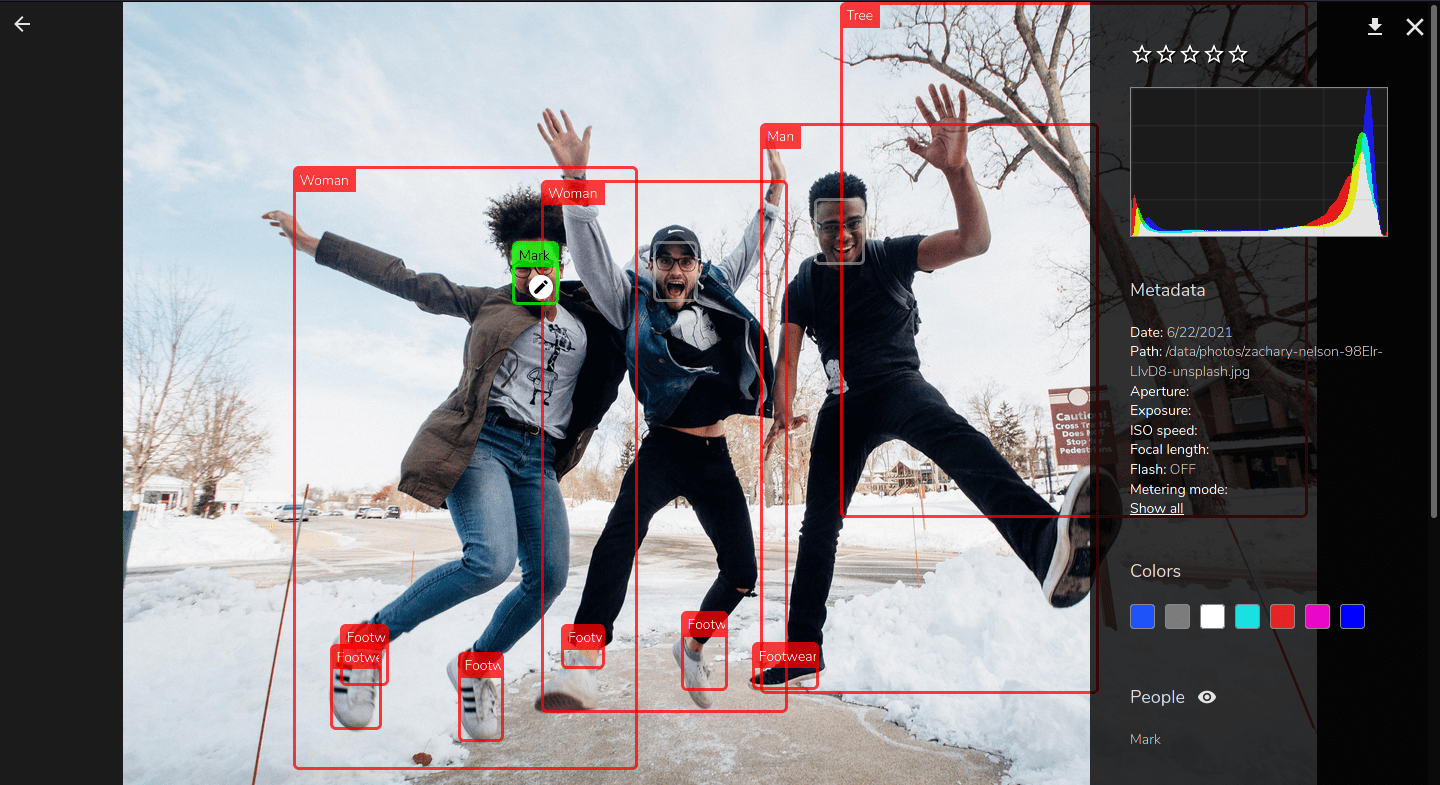 Pro's
Quick installation process
Simple interface heavily focused on search and filtering
Machine learning options
Developer aware of issues and actively adding features
Con's
Medium / heavy on resources (with analysis enabled)
Virtually zero customization, few settings/options
Interface somewhat cluttered on small screen, small thumbnails
Little ability to organize photos
Feels like a alpha/beta concept
No ability to share albums with non-users
Experience
Starting Photonix is quite simple and made even easier by the provided docker-compose file. The 'first-run' screen walks you through the simple setup and is quite painless. At one point it asked if there was another folder I would use to add photos that it should watch. I gave it my Nextcloud photos folder, but it was never actually scanned. Looking through the docker logs, there are a number of Python tracebacks without much clear information as to what's failing or why. The importing process happened in the background but I had no feedback with regards to progress, failures, or otherwise. Adding users or an additional library must be done through the command line. I didn't spend a LOT of time with Photonix as there were a number of UI bugs that were too frustrating for me to deal with.
I really like the idea behind Photonix, but it feels as though it's at best a concept. The developer appears to have a great roadmap with lots of desperately needed features planned. Of the applications with machine learning embedded, this one definitely has some great promise and I look forward to see where the developer is going with it.
One thing I appreciated is that Photonix can be a Google Photos replacement without being a Google Photos clone. The approach is unique and quite refreshing.
Who is Photonix for?
Photographers looking for a simple way to sort through and find photos based upon a wide variety of image analysis algorithms.
Photoview - (v 2.3.4)
Photoview is a simple yet powerful application that mirrors your source folder structure to create albums. While less than a year old (at the time of writing), it is already in a very usable state with lots of features coming.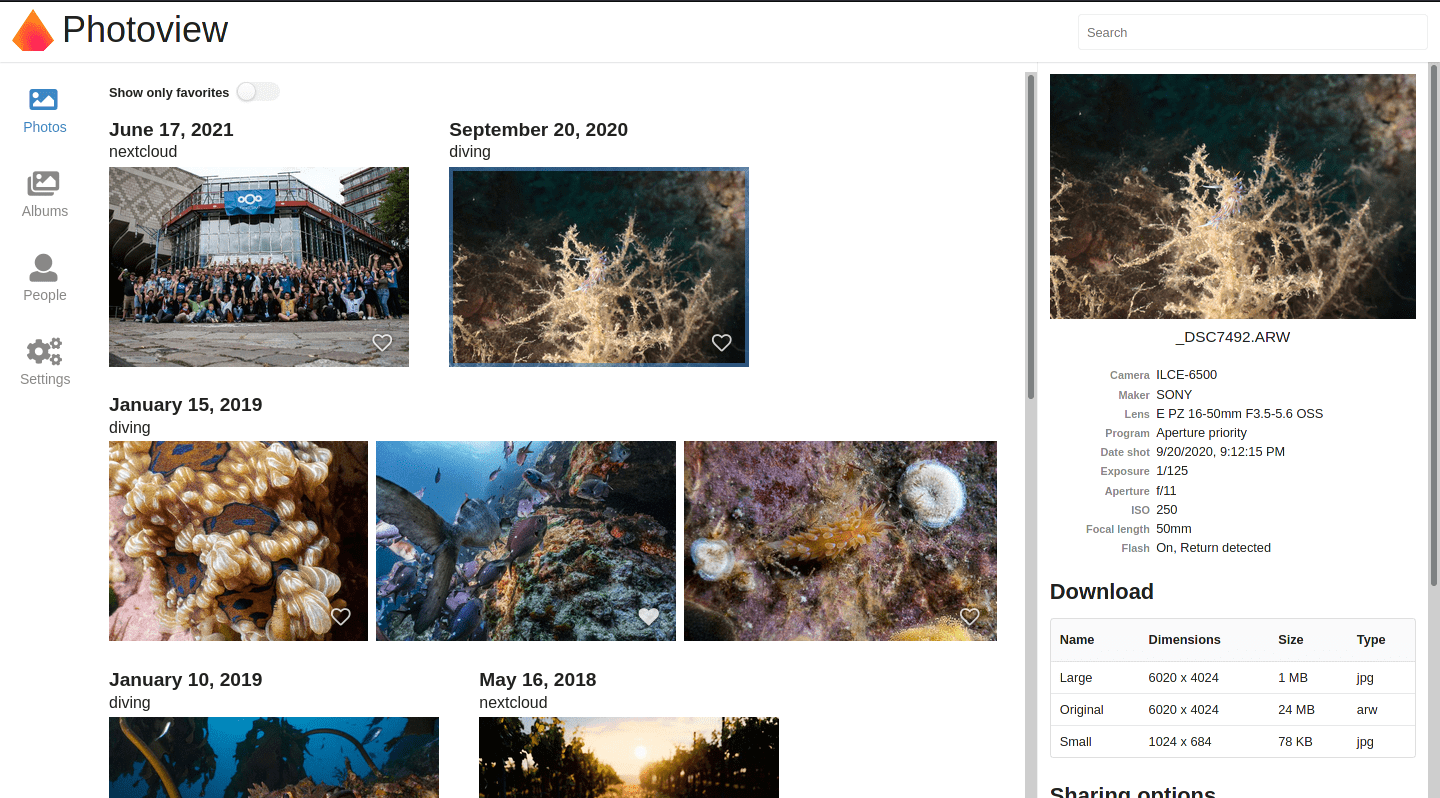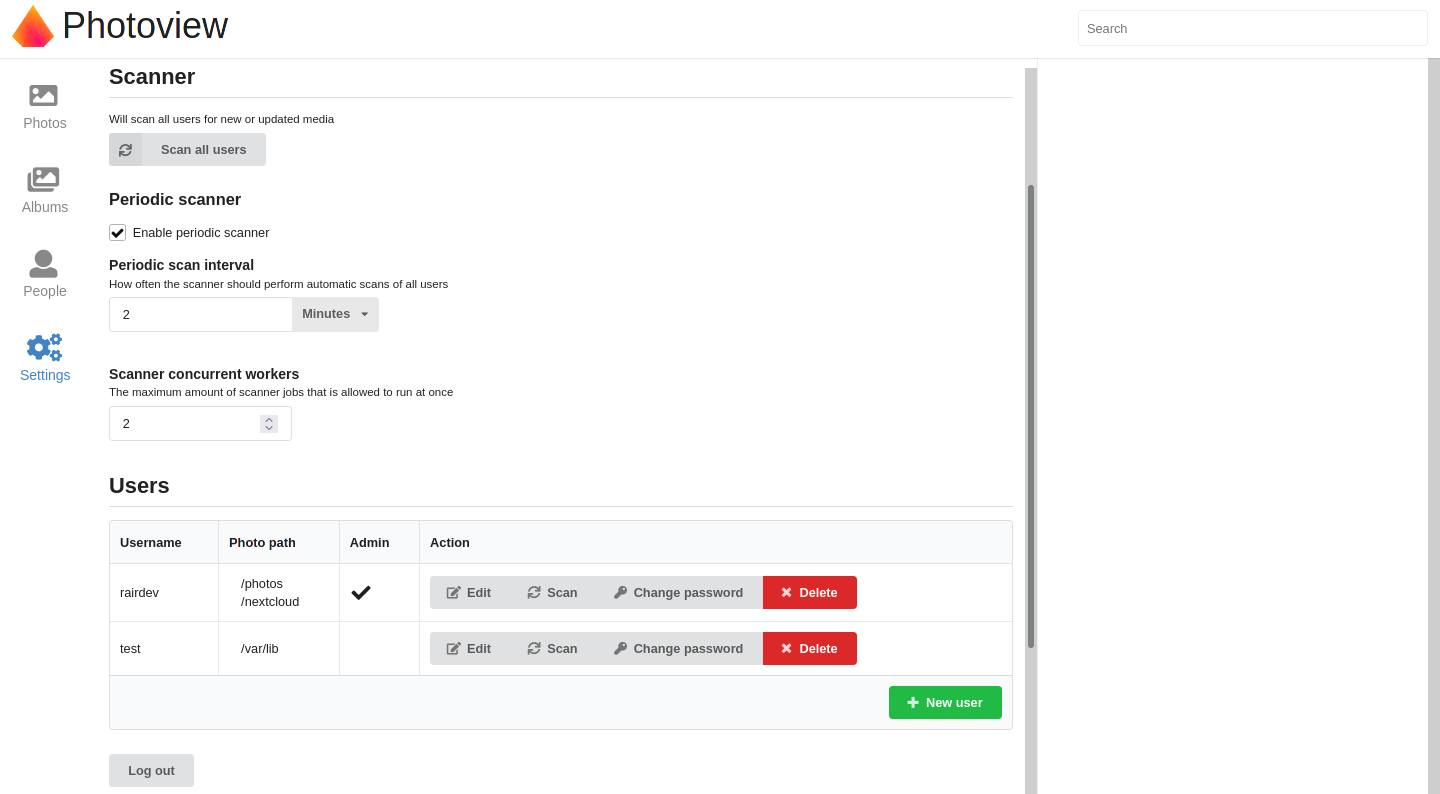 Pro's
Adding and scanning for new files very fast and intuitive
Intuitive interface
Easily share photos/albums
RAW and video support
Automatic syncing
Very quick
Light on resources
Facial recognition
Con's
Not a good use of screen real estate (for now)
Cannot create albums different from directory structure (for now)
Not optimized for larger libraries
Loading images not optimized
Cannot upload through webUI
No object detection
Cannot share album with another user (except via public link)
Little to no customization
Experience
While digging through the awesome self-hosted list I came across Photoview. I was ready to dismiss it as another half-completed project until I tried the demo site. I was instantly impressed at how well polished it is. So I decided to give it a full run through. Installation was painless with the provided docker-compose.yml file. Looking through the documentation showed me that they are looking for contributors. Fortunately, even with the majority of the documentation empty, the interface is so intuitive that it requires little to no instruction to setup and use. I was easily able to mount my sample Nextcloud directory and it was scanned and imported instantly.
I really appreciate an application with nice defaults that doesn't require endless tweaking just to make it usable. That being said, there are definitely a few things bothering me. But digging through the GitHub issues shows that many of these quibbles have already been brought to the attention of the developer who is in the middle of a redesign to address many of them.
Overall, I believe Photoview is a good application that is on the verge of being great. As with a few others mentioned above, I look forward to the near future to see what the developer can do to keep the balance between simplicity and functionality.
Who is Photoview for?
Anyone with a well-organized photo library that is looking for a tool to display and share their photos. Wait for the next major release.
PhotoPrism - (v May 23, 2021)
PhotoPrism is a no-fuss, well-rounded photo management software that is fast and full of features. I find it to be the closest, in terms of functionality, alternative to Google Photos.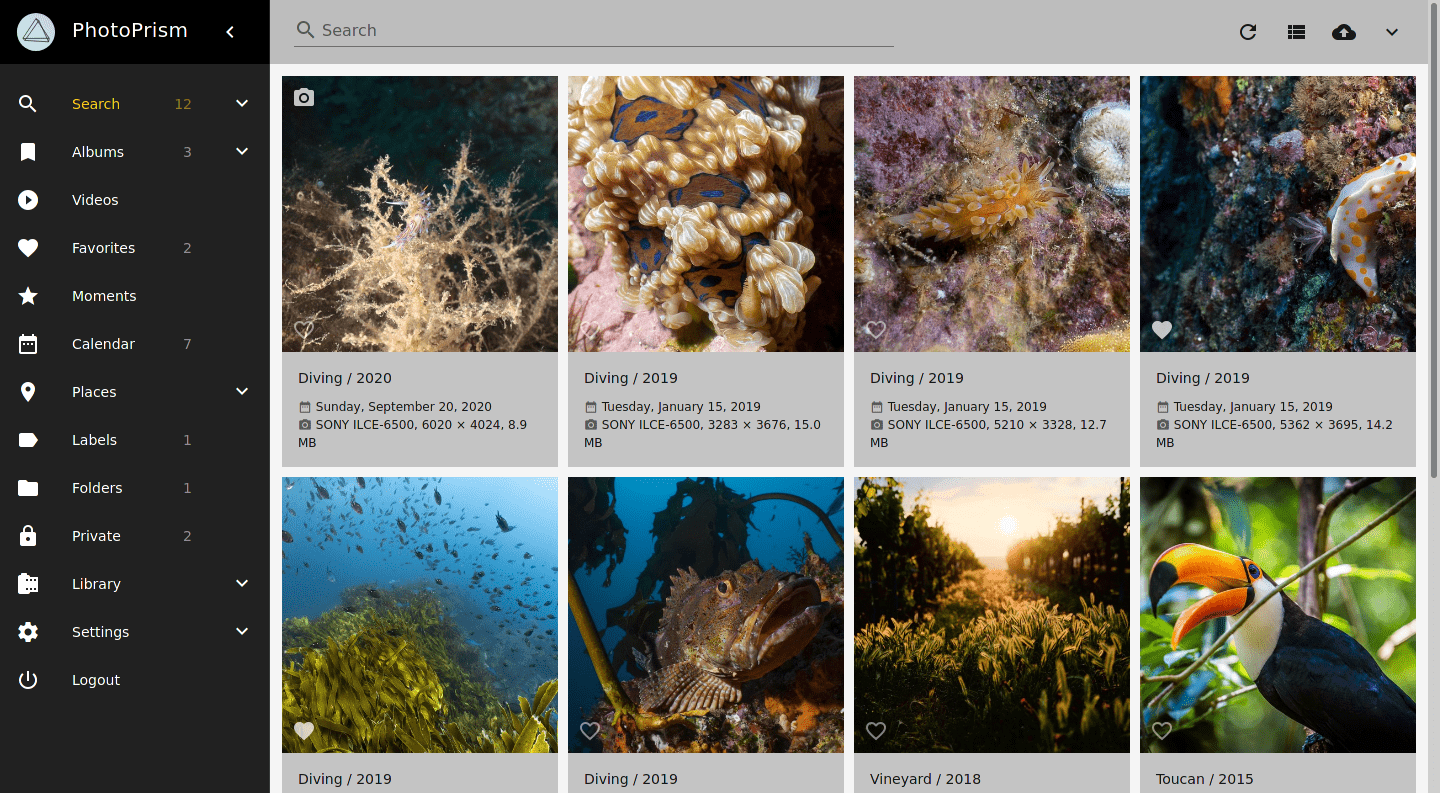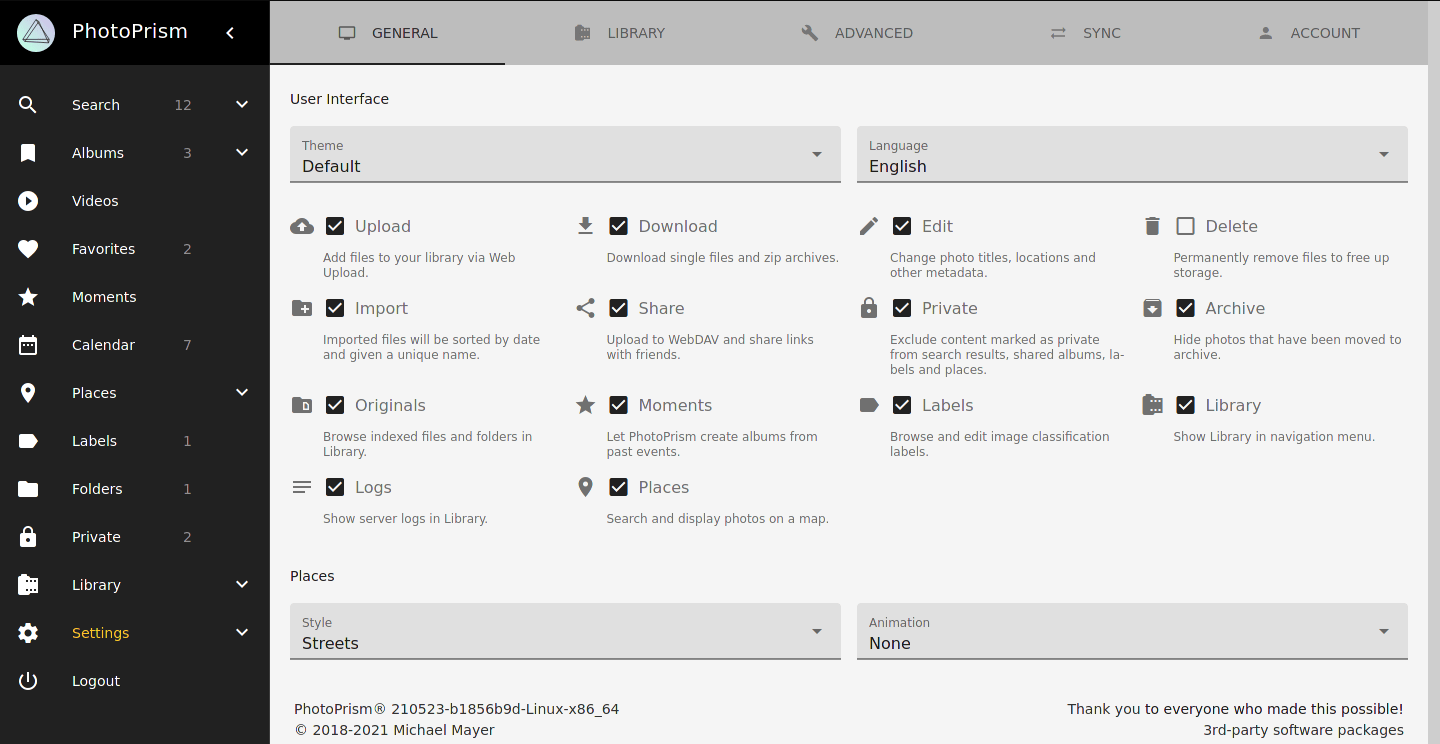 Pro's
Fast
Automatic tagging using TensorFlow
Easy-to-use interface
Well supported, new features well thought out
Well-funded, continuously developed, large following
RAW/video support
Moderate customization available
Con's
Single user (for now)
No basic photo manipulation
No facial recognition (yet)
Importing and indexing is resource intensive
Newly added photos not auto-detected
No password option for shared photos/albums
Largest photo view is cropped squares with metadata
Experience
My first interaction with PhotoPrism was quite pleasant and intuitive. Installation is easy with the well-commented, provided docker-compose file. Once up and running, importing and indexing a large library of photos took no more than a few minutes and tagged many of the photos using the included TensorFlow image indexing package. After completing, I was easily able to browse my photos with everything loading extremely quickly. There are many ways to view the photos: via time line, by folder, location, and type of photo. By digging a little deeper into the settings, I found lots of knobs to turn and switches to flick (I love to tinker if you haven't noticed) which allow you to tweak the application to your liking. Photoprism also integrates well into my existing Nextcloud setup and covered one of my huge bugaboos in Nextcloud.
I did however have one issue with some of the photos and their metadata. I checked the software's GitHub page for any mention of the issue. No luck. I filed a bug report and within a few hours the developer responded. After an exchange of messages over the course of about 2 days, the bug fix was pushed to the app. I was seriously impressed.
Other issues for me include the fact that it currently only supports a single user – Many people have funded the issue on GitHub and multi-user support appears to be on its way. This also appears to be the case with basic photo manipulation and some of the other issues above.
As far as the machine learning goes, like other applications using TensorFlow, the tagging is rudimentary at best and often adds incorrect/strange tags. The good news is that even while indexing and importing, the interface remains responsive and shows progress even on my limited resource VM. If you really want to avoid the resource usage, the TensorFlow indexing can easily be switched off in the settings.
While PhotoPrism is not perfect, the overall user experience is quite enjoyable and the bugs minimal. The other applications I tried above are giving PhotoPrism a strong challenge, and in the future I may switch.
Who is PhotoPrism for?
PhotoPrism is a great application for anyone looking for a Google Photos replacement. While it isn't perfect and has room to grow, it is my current pick for the closest alternative. Even my nontechnical partner has been enjoying PhotoPrism and uses it to manage her photo collections.
Honorable Mentions
The following I tried but were missing too many features for me to follow up on, but all had their own beauty and are worth checking out if the above don't suit your needs. They don't really fit into the "Google Photos replacement" category (for better or worse).
Conclusion
Software preference, especially in the creative space, tends to be very personal and each will have their own opinions on why one is superior to another. However, I believe the current state of software development allows for different applications to shine for different niches. Below are my favorites and some closing comments.
My Top Picks (TL; DR)
PhotoPrism – Well-rounded overall
Piwigo – Take the time to make it what you want and you won't be disappointed
Machine Learning (ML)
Machine learning is all the rage these days and I was convinced it was a necessary tool for me to sort through photos and find lost images. The reality is that the packages currently in use are mediocre at best and require a lot of resources that I don't believe justify their outcome. Moving forward, I believe I will steer away from ML and use a lighter weight software that is focused on the beauty of the photos themselves. For now I will take the time to enjoy my photos and tag them individually – at least until ML can distinguish a gorilla from trees and a nudibranch from a rock!
Final Thoughts
When first searching for a Google Photos replacement, I was looking for a 1:1 replacement. I honestly thought that Nextcloud would be my go-to, one-stop-shop for completely replacing all things Google. While it is a good start, the photos app left me looking for an alternative.
Through this experience of trying a number of applications, I was reminded that there was a time before Google dominated my entire life. I discovered new ways to organize and display my photos that actually suit me better than the black hole of my Google account. This rekindled my joy of photography and motivated me to create an entire site dedicated to my diving and travel photography (link coming soon 😉 ).
Let me know if I overlooked your favorite software and why it should be included in this list.
Update July 13, 2021
The creator of Chevereto reached out to me and offered the $39 Core license to me free-of-charge. While he didn't specifically ask me to update this article, I decided to add a few thoughts on using the updated version. See above as I added a separate section for my experience with the paid version.
---
Thank you for visiting my site and checking out this post! I hope you found it helpful. If you are feeling generous, please consider a small donation to help keep the server running.

---